St Davids Church, Neath
This church, a focalpoint for the town centre, was built in the "Victorian Gothic" or "Pointed" style and consecrated on 29 November 1866. Designed by John Norton, it's a fine example of blue and red brick decoration reminiscent of the style found in Keble College, Oxford, and other buildings of the period.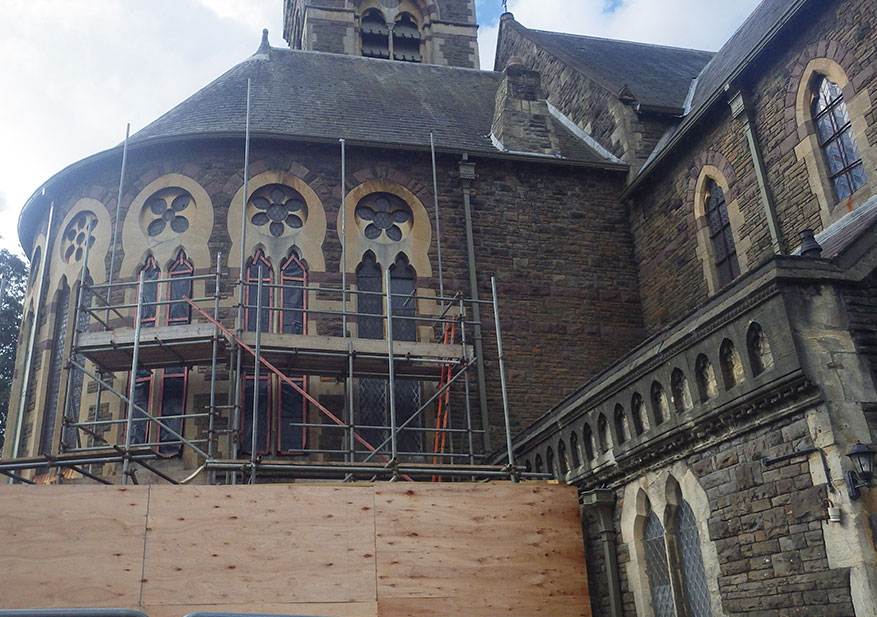 project description
Our experts undertook roofing and stonework repairs to this building.
This job entailed Re roofing of the tower spire roof with new welsh slate and replacement of all lead detail including refurbishment of weather vane and finials and replacement of lightning conductor.
Stonework repairs and professional cleaning including re-pointing of tower in entirety, refurbishment of clock faces. Substantial glazing repairs.
ROOFING
We pride ourselves in undertaking work in slate, stone, tile and lead to the highest standards of workmanship and conservation. We have a reputation for undertaking complicated work with complex detailing. We also carry out decorative slate and tile hanging as well as related cast iron and lead rainwater goods repair and replacement.
Stonework
The conservation of tracery windows, figure carvings, crosses, copings, walling and re-pointing are all aspects of stone masonry undertaken by us. Our stonemasons are experienced in all aspects of the repair and restoration of historic buildings, ecclesiastical and listed buildings. We also provide stone cleaning services.
features of this project
Replacement of lightning conductor
Substantial glazing repairs